Garage Door Springs
Back To Our Services
Which component does most of the work while opening your garage door? You guessed it - the spring. Given its role, it is one of the major hardware parts of the whole system. Find out important and interesting facts about garage door springs.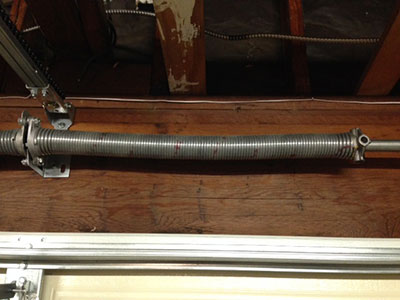 Overhead Door Spring Installation
Does the new door need a new torsion spring given that the old one seems in good shape? The answer is: most probably yes. This is because the spring's size is chosen based on the size and weight of the door. A smaller spring won't be able to lift a heavier door. A much bigger one can make the door difficult to close and to keep closed. The installation involves mounting the spring over the shaft and winding it. Testing will show if the new component works properly. The sooner the spring is lubricated the better. All coils should be covered.
Fix Torsion Spring
What can go wrong with the spring? There can be too much or too little tension in it. In the first case, it will be hard to keep the door closed. In the second case, the opener will strain to lift the unit. The solution involves adjusting the tension through unwinding or winding the spring. This is not a DIY job because if the tension held inside is released accidentally, it can cause serious injuries. If there is serious damage to the spring or it happened to break, it should be changed right away.
Extension Spring Replacement
When is replacement necessary? If there is a permanently stretched coil, the whole spring has to go. Similarly, if the component is broken, it should be changed right away. It is best if the two extension springs are replaced together. This will practically eliminate the risk of encountering the same problem in a few months or even weeks. It is best if the new components have an estimated life of 10,000 cycles. The galvanized steel make is a must. The replacement involves removing the old parts and connecting the new ones to the respective bolts and pulley forks.
If you have damaged, malfunctioning or broken springs, count on us to solve the problem quickly and professionally. At Garage Door Repair in Trinity, we fix and replace extension and torsion springs of all ages and brands. We care for these parts as part of our maintenance service and install them when replacing an existing door.
To get help, give us a call or leave us a note.
Browse our website for more details on our services.